Welcome to my stop on the blog tour for Our Violent Ends!
I finished Our Violent Ends a few weeks ago and have been screaming about it ever since, so I'm very excited for more people to be destroyed by it. This novel has made it to the list of my favorite books of 2021, and hopefully, my review today will convince you to read it!
Also, make sure to stay tuned until the end of this post for information about a U.S. giveaway for a copy of These Violent Delights and Our Violent Ends…
My Review
This is what revolution is, after all. The trailing of blood from door to door, loud and violent until the rich cannot look away.
Chloe Gong is back with the breathtaking conclusion to her bestselling debut These Violent Delights. There is no doubt that this sequel lives up to its name; Our Violent Ends is a deliciously violent, thrilling end to the series.
I read These Violent Delights in late December 2020, and even though I remember enjoying it, most of the details were a blur in my mind before I started this sequel. (Except, of course, that ending!) So I went into Our Violent Ends carefully, wary that I wouldn't be able to understand what was going on. However, I didn't need to worry; right from the first few pages, I was enthralled. The sequel provides just the right amount of background for readers of These Violent Delights to eagerly slip back into the story. What's more, Our Violent Ends takes everything I loved from These Violent Delights and goes even further to perfect these elements to an even higher level. It's obvious that Gong has grown as a writer, and that makes for a captivating sequel.
Our Violent Ends unfolds precariously, its plot a nerve-racking, rapid series of events that explode in a final climax. I found These Violent Delights to be slow in terms of pacing, but I was surprised by how well the pacing is done in this sequel. I stayed up late every night reading Our Violent Ends, promising myself just one more chapter until I found myself reading hours past dark. This is a story that unfolds with so much tension that you want to absorb it all as quickly as possible, and I wish I could experience it again for the first time. I also love how balanced it is; I either found myself laughing or tearing up while reading because the humor is as perfectly written as the darker parts of the novel.
Yet the two hearts of Our Violent Ends, the ones that propel the story forward, are without a doubt its characters and setting. Frankly, I would die for the entire main cast of These Violent Delights. Gong knows how to write perfect characterizations. The character's motivations are clear on every single page, so much that you can tangibly feel their emotions weighing down on you. There is Juliette Cai, who must keep a truth from surfacing at the sake of her own reputation. A struggle I had with These Violent Delights was the fact that I found Juliette a little underdeveloped, but in Our Violent Ends, much of the story is from her perspective, and her internal conflict really shines.
She was the heir to the Scarlet Gang. Heir of mobsters and merchants and monsters, each and every one of them, blood frothing at the mouth. She kneeled to no one… But God, she wished she weren't. She wished she could just be a girl.
The following paragraph contains spoilers for the ending of These Violent Delights! Please skip to the next paragraph if you do not want to be spoiled.
And then there is her lover, her enemy, Roma Montagov, who has faced a massive betrayal that goes against everything he believed. Benedict is in even further grief, but his grief has been whittled into sharp anger. Kathleen is learning more about herself and realizing where her true loyalties lie, and Rosalind becomes a sort of a mystery until more about her own motivations is revealed. And two of the most precious characters: Marshall, who must stay in hiding and watch his loved ones grieve him, and Alisa, who throughout the entire story all I wanted to do was give a hug to! These individuals and their tangled webs of relationships are the heartbeat of this novel. When reading Our Violent Ends, I was constantly filled with a warm love for them, not only one or two but the entire cast.
[End spoilers]
This duology is a Romeo and Juliet retelling, and I can say without even having read the original classic that Gong's rendition perfectly captures the tumultuous feelings of the classic. Even though I didn't love Roma and Juliette's romance as much as I thought I would in the first book of the duology, their romance arc in this novel had me gasping and crying. Gong also uses many of my favorite romance tropes with Roma and Juliette, which were an absolute delight to read! I also adored Benedikt and Marshall's romance, their scenes together were so precious.
In the end, this was all that they were. Two hearts pressed as close as they dared, shadows melding into one by the flickering candlelight.
But if the characters are the forces that move everything forward, the setting is the rich backdrop, the lifeblood. Shanghai in 1927 may not be alive in a real sense, but is definitely a vibrant entity, a city that lives and breathes on its own. An element I loved from These Violent Delights were chapters in the omniscient point of view that centered the setting, almost allowing it to have its own point of view, so I was glad to see that these continued in Our Violent Ends!
And the setting is only added onto by the commentary on politics in Shanghai during this time period. This was heavily present in These Violent Delights, and it is all the more there in Our Violent Ends; with this sequel, we see the gangs losing power and other groups taking higher positions in the city, groups like white foreigners. What is even more pressing than the foreigners, though, are the divided Nationalists and Communists, and their tensions that spark great danger. All of these warring groups rip the city apart in a plot that includes real historical events like the Shanghai Massacre.
These things do not fade away with time. They can only grow and fester and ooze like a slow, slow cancer. And any day now, the city will turn inside out, corrupted by the poison in its own seams.
The only thing that kept me from rating this book a full 5 stars was the ending. While, yes, it was every bit the wild, heart wrenching conclusion that I expected, I was also left expecting a little more. A few plot threads felt unresolved and rushed, so I would have loved to have a lengthier epilogue that answered some of my questions about what really happened.
My small issues with the ending aside, this sequel demonstrates Gong's talent, making me even more excited for what she publishes in the future. Our Violent Ends as a whole has so much to offer, from a heartbreaking lovers-to-enemies-to-lovers romance, a crew of characters that each feel so real, political conflict against the backdrop of 1920s Shanghai, and a crew of characters will stay with you long after you finish the last page.
Cut down deep and grab what beats beneath, and it is love that will survive after everything else has perished.
My Rating: 4.5 Stars
Book Details: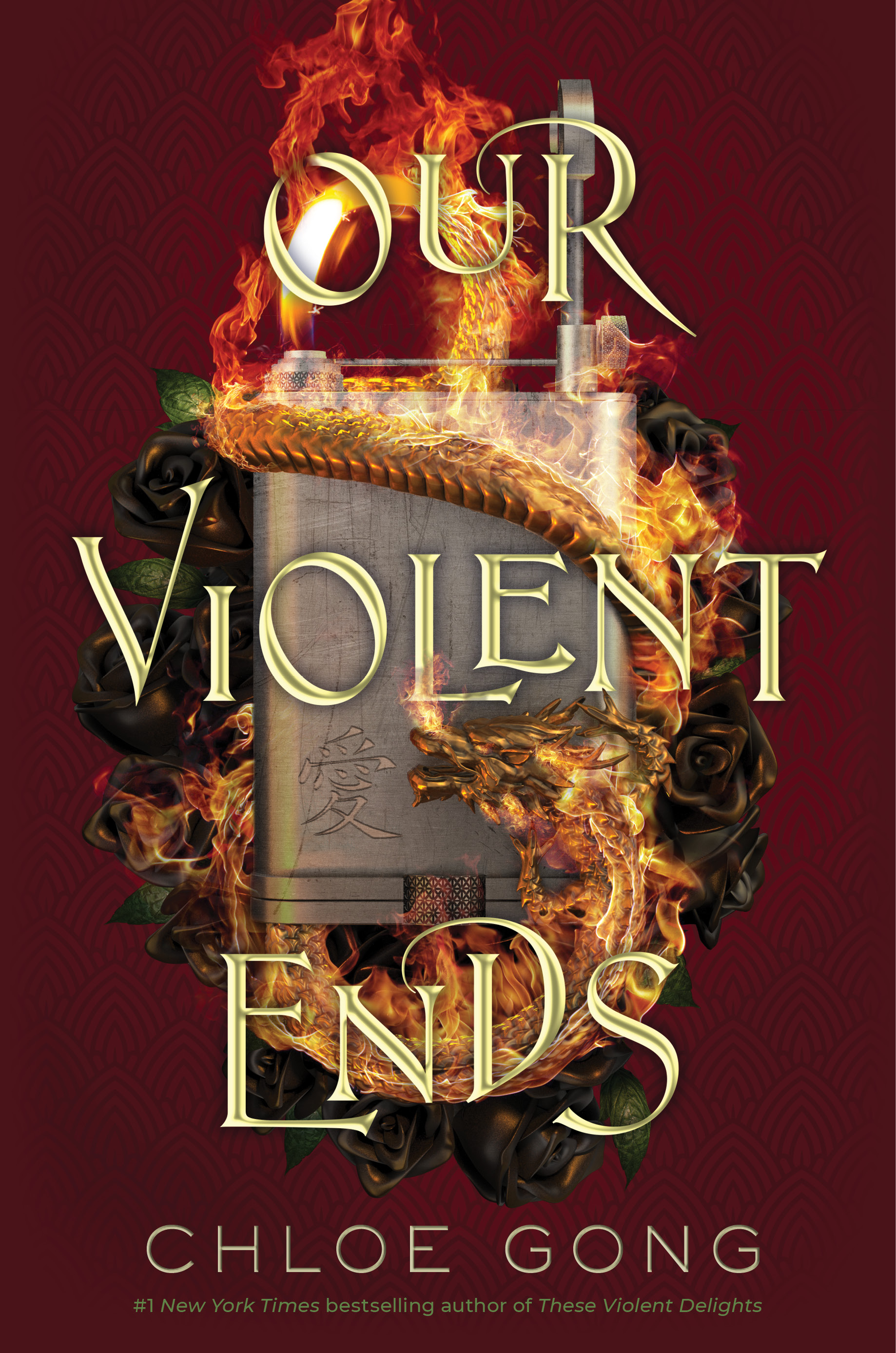 OUR VIOLENT ENDS BY CHLOE GONG
✧ Publisher: Margaret K. McElderry Books
✧ Release Date: November 16th, 2021
✧ Genre: YA Fiction (Historical, Fantasy, Romance)
Note: The synopsis below contains spoilers for These Violent Delights, the first book in this duology!
Shanghai is under siege in this captivating and searingly romantic sequel to These Violent Delights, which New York Times bestselling author Natasha Ngan calls "deliciously dark."
The year is 1927, and Shanghai teeters on the edge of revolution.
After sacrificing her relationship with Roma to protect him from the blood feud, Juliette has been a girl on the warpath. One wrong move, and her cousin will step in to usurp her place as the Scarlet Gang's heir. The only way to save the boy she loves from the wrath of the Scarlets is to have him want her dead for murdering his best friend in cold blood. If Juliette were actually guilty of the crime Roma believes she committed, his rejection might sting less.
Roma is still reeling from Marshall's death, and his cousin Benedikt will barely speak to him. Roma knows it's his fault for letting the ruthless Juliette back into his life, and he's determined to set things right—even if that means killing the girl he hates and loves with equal measure.
Then a new monstrous danger emerges in the city, and though secrets keep them apart, Juliette must secure Roma's cooperation if they are to end this threat once and for all. Shanghai is already at a boiling point: The Nationalists are marching in, whispers of civil war brew louder every day, and gangster rule faces complete annihilation. Roma and Juliette must put aside their differences to combat monsters and politics, but they aren't prepared for the biggest threat of all: protecting their hearts from each other.
Click for Trigger Warnings. (From the author's website)

blood, violence, gore, character deaths, murder (including mass murder), war themes, torture, weapon use, insects, alcohol consumption, parental abuse